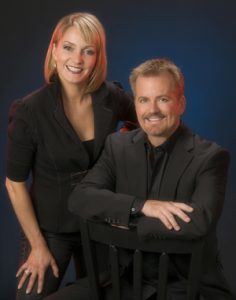 Murray Hatfield & Teresa first worked together in 1992 and the result was…MAGIC! Since then they have thrilled audiences in numerous countries on four continents with their signature brand of magic, comedy and stunning, state-of-the-art illusions.  Today they are constantly in demand for corporate events, casinos, festivals, fairs, exhibitions…in fact anywhere that exceptional entertainment is required.
Murray & Teresa are applauded not only by their audiences but also by their peers.  They have won numerous International Awards including being named Canada's Magicians of the Year by the Canadian Association of Magicians.  Teresa been named Assistant of the Year three times by the Society of American Magicians #95, most recently in 2017.  Their work was also honoured by the President of the International Brotherhood of Magicians who presented them with a Presidential Citation.
In April of this year (2017) Murray was honoured to be named the President of the Canadian Association of Magicians.  In July (2017) Murray & Teresa appeared on Penn & Teller: Fool Us and in August returned to the PNE in Vancouver with a totally new version of UNBELIEVABLE! A Magical Experience – seen by up to 10,000 people per night.
"Murray – 2 Time Magician of the Year
Teresa –  3 Time Assistant of the Year"